Bookkeeping Services for Business Success
Add a header to begin generating the table of contents
Most small startup owners set up in business due to the flexibility it allows them and the passion they have for their product, idea or service – not to spend evenings invoicing customers, processing expenses and inputting bank transactions into accounting software or excel!
At Spotlight Accounting, we recommend using Xero and Dext to automate as much of this bookkeeping process as possible, as these paperless systems will store all of the records that you need safely in the cloud.
How does bookkeeping work with Xero?
Xero accounting software can help automate many of the tasks involved with writing up accounting records as well as delivering the reporting you need to run your business successfully.
Sales invoices can be e-mailed directly from Xero accounting and can be repeated so they are automatically emailed to customers.
If your business sends quotes out to customers these can emailed and accepted online and then, when the work has been completed, can be converted to invoices. This saves both time and money.
Using Dext, once supplier rules are set up, bills are automatically processed and entered into Xero with a copy of the bill to be paid, saving hours of manual input.
Account transactions are imported from bank accounts via a bank feed, and Xero tries to match the bank feed to transactions such as invoices within the software. Alternatively, it will make suggestions based on the historical data. Working from the bank makes the bank reconciliation so much easier than other accounting software allows.
As Xero is based securely in the cloud, it also ensures that you, your accountant and bookkeeper have access to the same up to date information. This enables you to receive advice based on actual financial information rather than estimated.
Weekly Xero bookkeeping?
At Spotlight Accounting, where we complete bookkeeping on behalf of our clients, we recommend a weekly service so that businesses can keep up to date with their finances.
Businesses that are up to date with Xero, will be able to understand what payments are due to customers, when to pay suppliers and how much cash is in the bank.
Weekly bookkeeping also ensures that bills are not lost and accurate accounting records are maintained.
Quarterly Xero bookkeeping?
Businesses that use Xero for quarterly bookkeeping, often use Xero to prepare their VAT returns and meet HMRC requirements.
Yearly Xero bookkeeping?
Xero's cash book subscription can be used to record transactions for your accountant each year instead of inputting your bank transactions into excel.
These subscriptions are only available through an accountant or bookkeepers that are a Xero partner.
Who can Xero bookkeeping work for?
Xero accounting software has been designed for small businesses, with a range of subscriptions to suit individual small business needs.
The software can deal with fixed assets, inventory and payroll for your employees.
With a marketplace of apps that connect to the software, such as inventory and stock control or project costing, Xero has the flexibility to offer a system that helps run your business.
For example, online sellers can use an app such as link my books to pull sales information from platforms such as Amazon, Ebay, Shopify and Etsy, automating the processing instead of downloading manually and uploading into accounting software.
Xero offers a 30 day complimentary trial, so that business owners using Xero for free can see the benefits of the software before committing and converting.
Spotlights bookkeeping service
Using our bookkeeping service can take one of the many jobs off your plate that are required to run your business effectively.
Using our bookkeeping service will save you time, so you can concentrate on growing your small business, rather than being bogged down in paperwork.
We can also recommend the apps and subscriptions that are best suited to your business.
Bank accounts are reconciled weekly with a list of missing information to upload onto Dext.
The image below shows our process. We can offer add on services such as paying bills, payroll and credit control.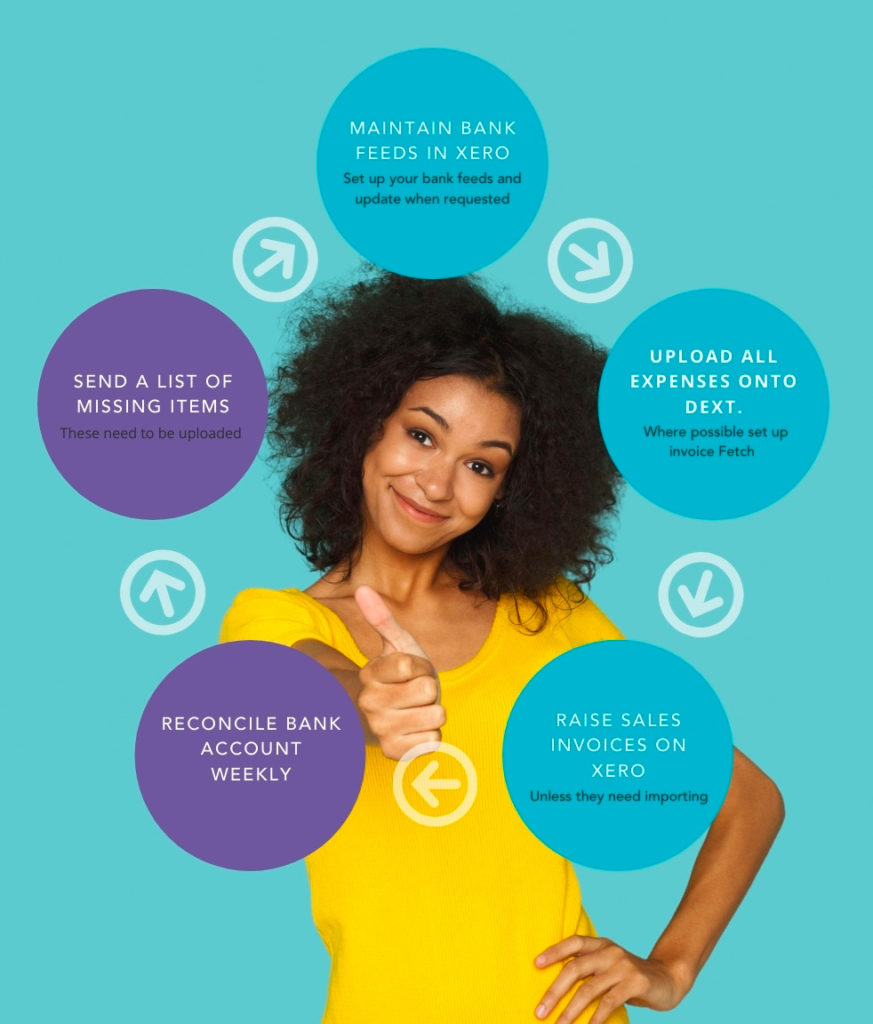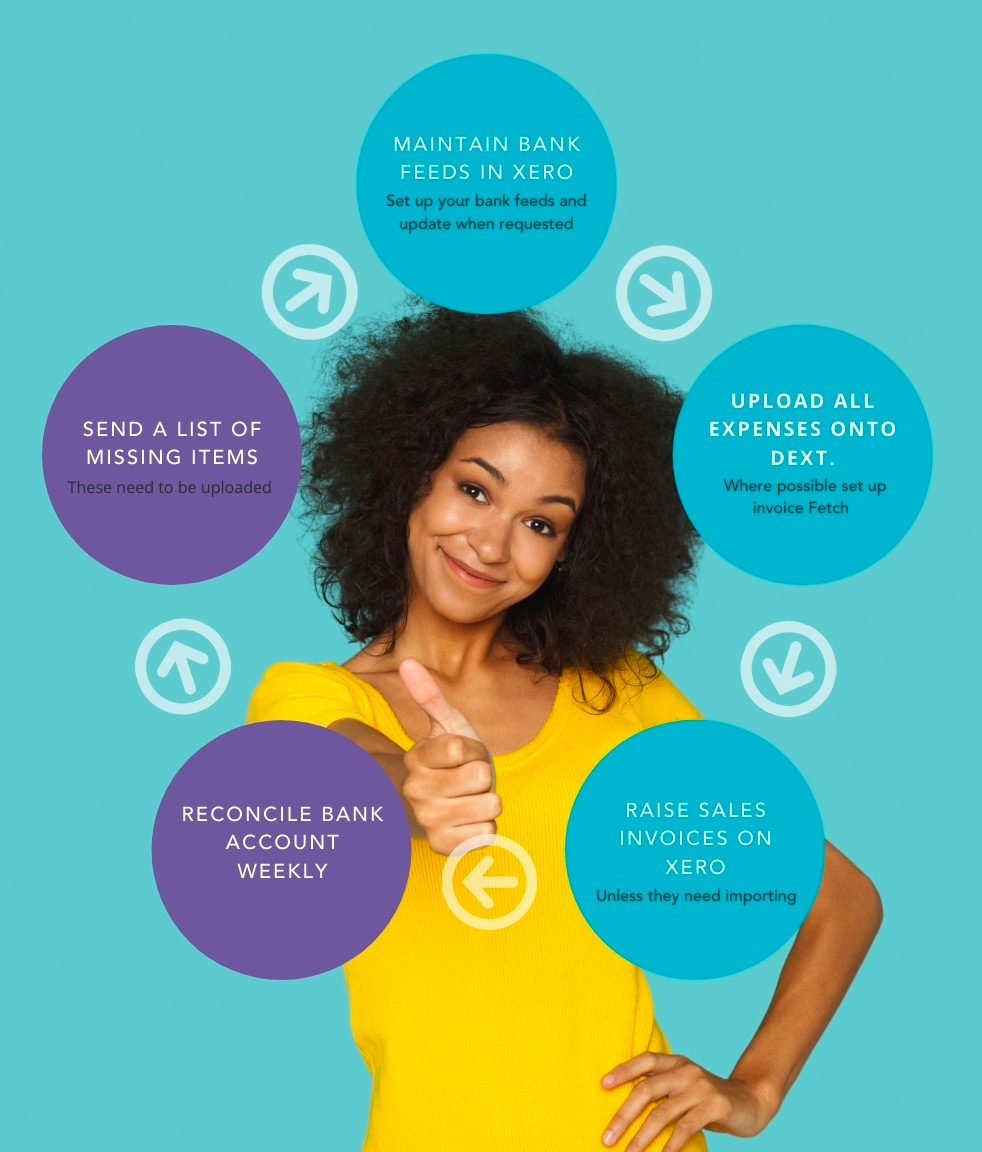 The diagram explains how our weekly bookkeeping service works.
The blue circles are what we expect from you and the purple circles are what to expect from us. Any questions please get in touch with us.
Please take a moment to read our reviews from our many satisfied accounting clients.
"Carrie always does an amazing job. We completely trust her and would highly recommend her."
"As a business owner Carrie has made my life so easy. I often find when you work with accountants or technical people, they talk at you, in their own language and seem shocked when you don't understand! Carrie explains things in plain English making it easy to understand what needs to be done and why. I can not recommend her highly enough."
"Carrie & Team go above and beyond, it was something I needed sorting and they took away the stress and delivered a great service they were recommended and I'm so happy I used them. I can't wait to grow my business with an accounts team that go that extra mile that make the service feel really personable…. "
"I have been a client of Carrie's for several years now and have received excellent service. Advice on both personal and business taxation matters is always pro-active so there is time to implement it. Carrie and her team are also readily available to answer any queries regarding accounting software or dealing with HMRC.Highly recommended as an efficient and responsive accountant."
"Carrie's help has been really valuable in helping me to navigate the tax and accountancy issues of a sole trader business. She's right at the cutting edge of helping her clients deal with 'making tax digital' and her service is always friendly, helpful and responsive. "
"Carrie was invaluable in the process of starting up my business. I will always recommend Carrie to anybody needing assistance with their accounts, and her knowledge and expertise in making a business thrive really are second to none."
Bookkeeping Frequently Asked Questions
How long does it take to learn Xero?
When clients start using Xero, we at Spotlight Accounting will take the time to offer an hours free training, which is normally all you need to get going. This training is also on an online portal, so can be used to refer back to if needed. Xero also have their own online courses that can be accessed through the help section of the website. All these online resources will enable you to learn have to navigate each function, at your own pace.
What's the difference between bookkeeping and accounting?
Bookkeeping is the recording and maintenance of accounting records for a small business. Accounting is the interpretation and presentation of the records. So reconciling the bank, invoicing and processing and purchase invoices are all bookkeeping activities. Reviewing a profit and loss report to understand if there are enough profits to pay a dividend is an accounting activity.
Other Xero accounting services we offer at Spotlight Accounting
We offer a number of accounting services including Management Accounts, Payroll, Cashflow forecasting and budgeting. If you would like to know more than get in touch today by telephone, email or via our online contact form.
If you like the sound of what we do and want to work with us, let's talk. If you're worried about switching from your existing accountant, don't.
It's easier that you think – 27% businesses work with an accountant that they want to switch from. The process is all dealt with by us and we make it as painless as possible.